As the customer base of a business expands, it no longer becomes feasible for an internal system administration team to deploy the resources needed for this as it is time-consuming and expensive. At such a point, it is time to partner with a good server management company. Weberge offers a range of server management services which include service monitoring, server maintenance, optimization, security, and initial server setup tasks.
Proactive server management is prominently very important in the endeavor of a business to keep its critical infrastructure up and running at optimal performance. Server management is not a single discipline since it encompasses simple tasks such as security patching to business continuity planning. Our server management services are exceptional and will ensure that business productivity and customer satisfaction will be guaranteed. We ensure that a business is able to concentrate on its core functions and even IT strategy rather than troubleshooting for problems.
The services we offer are exceptionally well conceived and they stop at nothing less than fully managed server management solutions. As such, the tasks that are included in server management are removed from the IT department of the business. A business is then able to create and sustain a competitive edge by allowing experts handle the technical stuff. The sustained efforts of our experts ensure that beyond server maintenance and availability management, the key issue of performance is taken care of. Performance management is a tad difficult but our expertise and experience eliminates any major problems.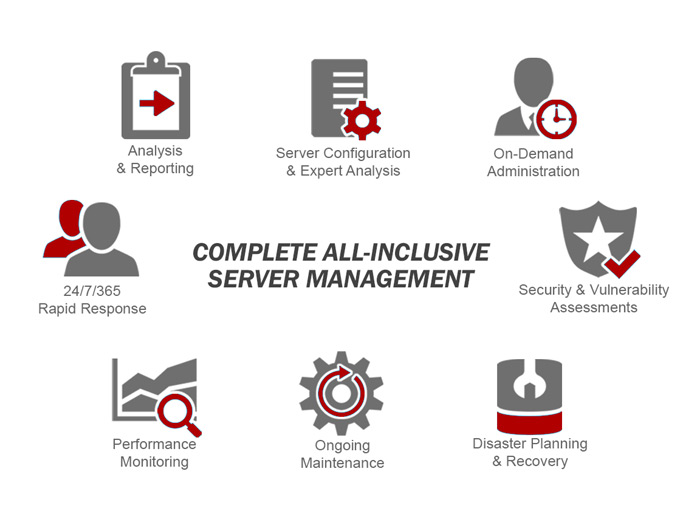 Outsourced Linux / Unix Server Administration
One of the key services of ideus is Outsourced Server Administration. Our main goal is to offer complete Linux and Unix server remote management and administration. This covers full system hardening and continuous security audits, vulnerability scanning and patching.
Package prices start from Rs. 5000/month (50 USD) per server.
Following are some of the administration tasks which falls under this package.
Server Maintenance
Live Technical Support
Log auditing
Software Configuration
Service Monitoring
Security Audit
Initial Security Audit
Software Upgrades
Date/Time/Time zone
DNS Setup
Control Panel Setup
Application Installation
Kernel upgrade/tuning
Firewall installation
Host, network IDS
Securing /tmp directory
SSH server hardening
Logwatchers
Ideus's Remote Network Management & Monitoring activities include:
System Administration – Configure and manage network equipment and components.
Hardware Maintenance – Remotely troubleshoot and resolve hardware problems 24/7.  Coordination of vendor maintenance and repairs for critical events 24/7.
24/7 Operational Support – Troubleshooting, escalation, and resolution of network problems 24/7 including access to trouble ticketing system.
Network Monitoring – 24/7 monitoring of all network components and communications circuits for errors and alerts.
Automated Alert System – Paging and e-mail notification of alerts to pre-determined escalation contacts by monitoring system.
Application updates
Data back ups
Security protocols
Whether it's 24/7, 8-5 or "after-hours" support you need, Ideus can cost-effectively keep your network infrastructure running at peak performance.
Why Ideus?
Increased Efficiency and Security
Partnering with a good server management company ensures that your equipment gets the attention it needs for optimal performance. Management technicians examine your servers and find ways to increase performance and keep your customers happy. All your hardware is monitored so that small issues are nipped in the bud. A good server management system will keep your systems secure.
Cost-effectiveness
When you utilize the services of a server management you no longer have to worry about maintaining a large staff. Neither do you have to worry about staying current with the latest trends in technology or keep up on the latest security issues. A good server management provider will charge a fair price and for that you'll get a number of techs available to handle your needs 24/7.